Hey everyone! Last week was the premiere and we met Amber and the twins. I love the addition of Amber, Nicole and Teressssa. It's way better than Caroline and Jacqueline. Now let's get into tonight's episode.
The Napolitanos open this episode with decorating their Christmas tree and of course they have a beautiful Nativity scene that I want under their tree. Then papa Napolitano excuses himself to go have a smoke. The Marchese family are making a gingerbread house and going ape shit from all the sugar that they probably usually don't get. Amber says as a parent, she wants her kids to have a perfect everything. Birthday, Christmas, St. Patrick's Day… everything, perfect! Now switch to Dina. She's decorating her outdoor Christmas tree because one of her hairless cats won't allow her to have an Christmas tree inside because it will destroy the tree. Zzzzz
Why is Dina even on this show? Does anyone enjoy her? No? I know, she's a boring pain in the ass! If that even makes sense. The Giudices are decorating their Christmas tree and I spot Teresa's Celine handbag which is at least $3,000- in the distance. How the hell can they afford that handbag? I noticed her Celine handbag because I want one. I love the light blue one like Tre's but I don't have it because I'm not a scammer and I can't afford it. There are so many things I have to pay for that prevents me from getting a Celine bag like Summer and my kids attend private school which takes precedence over things like handbags. Seriously though, how is Tre frontin' with a $3,000- handbag when she's bankrupt and about to go to jail for fraud? What the fuc– ever!
Nicole and Dina are meeting for lunch to talk divorce and Zzzzzz….
Why is Dina on this show? Oh right, the money. I love the twins, btw. I even like their parents, but I don't like Dina, in case that wasn't obvious, LOL! Amber's family is having a fire drill. I love Amber. She does a lot of mommy and wife stuff the way that I do and it's the only way to do it, of course.
Melissa and her family are heading out to the lot of where their new home is being built. It's an empty lot and I'm already bored. Melissa says her new home will be just like her old home except it will be LA chic. WTF does that mean? She doesn't know. All Melissa knows is she wants new and wants it in Franklin Lakes, bitches! Joey just told Teresa that he doesn't know what to do for her situation. He says whatever it is that she needs; he'll do it. Awweeeeeeee…. The Giudices are in a hot mess; that's for sure!
Teressssssa has a gay coming over to decorate one of their restaurants and I'm like Zzzzzzzzz… so far, my favorite twin is Nicole. Rino is taking one of Teresssssa's kids, Giovanni, to learn all about the restaurant business. I'm sorry, I just had a Bubba Gump flashback for some a second.
Props to Rino because he knows what he's talking about and he's the best person for Giovanni to learn from, IMO.
Joey, Melissa, Rosie and company are having dinner for the cousins holiday dinner they organized because everyone is getting along at the present time. Kathy hasn't talked to Tre in ages because Teresa hates Kathy, naturally. I've officially had too much wine since I totally care about this family dinner, LOL! As opposed to my sober self that doesn't give two shakes.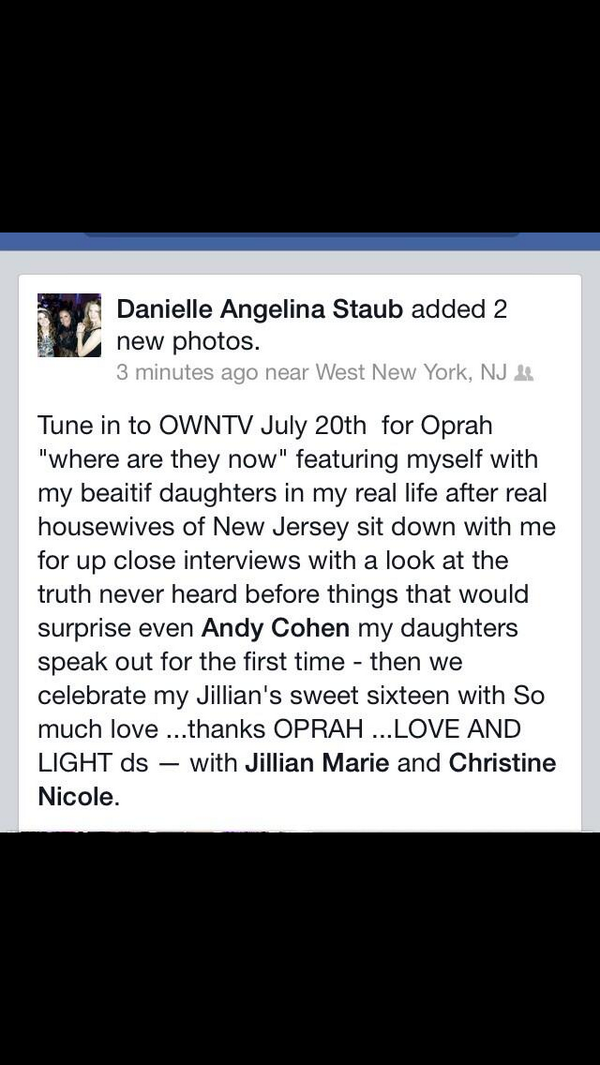 Speaking of Jersey, whatever happened to Danielle being on the OWN network tonight with her 'Where Are They Now?' special with Oprah? Ha, go figure! … I looked and found the Where Are They Now Special, but no Danielle.
The Gorga family are exchanging gag gifts for their cousins Christmas dinner party. It's funny and it's what Christmas is all about. Kathy gave Tre a dictionary and I'm dying. She just earned her spot back on this show for all I'm concerned, LOL!
Teresssssa and Rino are hosting a family dinner party and Rino is grilling 20 lobster tails for 8 people, LOL! Rino is still trying to teach lil' Gio to cook which is so sweet! Rino's toast to Nicole is just so adorable. I think I may start to like him, but probably not.
Maybe it's a Jersey thing or an Italian thing perhaps, but Rino creeps me out. Anyone else? Bueller, Bueller? I think it's either his voice, face or eyebrows. It could quite possibly be all three, who knows? I do appreciate his work ethic though.
We're at the Napolitano weekly family dinner. Nicole mentions that she won't be living with her parents for very much longer. Her mom loses it for a bit. See, that's me with my oldest son. He has said since he was 6 that he will live with us forever. I know that he's only 9 now and will most likely change his mind but of course I tell him that he can stay at our house as long as he wants. Even if we have to pay for private college because it's the closest to our house, Oh Lordy…
Melissa and Joey meet in a spare bedroom to wrap Christmas gifts for their children together, awwwwe! They're acting so lame, but it's cute. Maybe Melissa is drunk because she's actually endearing, for once. How old is Jesus this Christmas, Melissa? 92? LOL!
All of Jersey is ready to unwrap their Christmas presents. God bless Joe and all of his girls and OMG, the Giudices got a puppy!
It's the cutest puppy ever and the girls are very excited and are of course fighting over it.
Dina and Lexi are doing some stone throwing bs which is super boring; so…. zzzzzz, moving on!
Nicole and her mom are hanging out on Christmas, drinking mimosas when Nicole's boyfriend shows up. Nicole doesn't have custody of her kids this holiday; so she's a bit bummed. Joey's stressing out because it has to be 35 degrees apparently to lay the foundation on a house. Their building plans are delayed because of the Jersey winter weather. Melissa hates their leased home; so she's putting pressure on Joey to complete their new Franklin Lakes home ASAP.
The Giudices are loving their new puppy and Joe and Teresa are trying their hardest to enjoy Christmas instead of stressing about the fate of their fraud case. They will most likely be going away soon. At least Joe will. We'll find out for sure in September. Joe says it is what it is, but he wishes that it was different for his girls.
What did you all think of tonight's episode? Sound off in comments, thanks!
photo credit: bravotv, People, allthingsrh, enstarz, allaboutthetea, bravowatch, facebook, giphy, twitter, starcasm, m5x, famewhorgas